The Top KPIs for Nonprofits
Keeping track of the right key performance indicators can give you a framework to measure the health and growth of your nonprofit over time. But nonprofits are idiosyncratic, and the KPIs you prioritize are different from the ones a for-profit company would track. The manager at a bank doesn't have to worry about issues like fundraising or event performance. That's why you should take some time to identify which KPIs are best suited to your nonprofit and track them consistently. Understanding them will tell you whether you're on track to reach your objectives. Look at: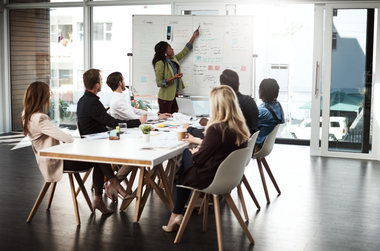 Donor retention rate — the percentage of donors who give to your organization repeatedly.
Donor lifetime value — the amount a single donor is likely to generate from first to last donation.
Average gift size — the average value of a single donation.
Donation growth rate year over year — the growth in the total value of all donations.
Recurring gift percentage — the rate at which previous donors return to keep giving to your organization over time.
Fundraising return on investment — the difference between the funds raised by a campaign and the total cost to run that campaign, divided by the cost of the campaign. Ideally, all your campaigns will return more than 100% of their cost.
Online gift percentage — the proportion of your total donations that come from your digital solicitation efforts.
Email open rate — the percentage of email recipients who opened a given email.
Email click rate — the percentage of recipients who clicked a link in your email.
Social media engagement — the rates at which your supporters are amplifying your message by sharing or retweeting and engaging in conversation.
Donor life cycle migration/conversion — how donors go from learning about your organization to becoming a recurring or major donor. Keep track of the stages of your donor engagement and stewardship efforts.
Donor churn — a measure of how many donors you lose each year.
Pledge fulfillment percentage — the proportion of pledges that are fulfilled.
By gauging the metrics that are most meaningful to your organization, you'll have a better feel for whether your social media, email and donor-attracting efforts are getting anywhere. KPIs may change over time as your nonprofit grows.
You may run a hugely engaging campaign but find when you look at the numbers that the average gift size actually went down significantly. In that case, you would consider adjusting your ask to raise the average gift size, perhaps by suggesting an optimal dollar amount in your donation request.
Measure KPIs over time and look to the internet to find data that shows how similar nonprofits are doing, from which you can derive benchmarks. Benchmark data lets you and your board assess your team's performance compared to organizations of a similar size or cause. Over time, you'll understand how your actions affect your KPIs and your nonprofit's performance, which will help you evaluate your success at reaching targets.
When deciding which KPIs are right for your organization, work closely with financial professionals who specialize in nonprofits to make sure you are measuring the right items to assess your organization's health. Be prepared to make changes if your numbers show you aren't getting the results you want.
---
Your Comments