Are You Ready for Hurricane Season?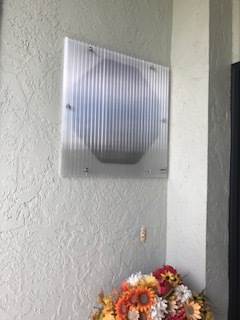 It's that time of year again and so here is what research I found out about hurricane shutters. I had a few companies come out and give me estimates for my home and business security. I started the process a few months ago so, at this point, I almost feel like an expert on the topic. I ended up purchasing the clear polycarbonate panels, (Miami-Dade approved), that are flush, 5/8" thick. They are very lightweight so that I can take them on and off with little or no assistance.
The heavy metal ones I found are useless if I can't find anyone to install them for me. They are ugly and if you want to leave up a few months or more, your home from the inside looking out is too depressing for me. I also like the UV film on the clear ones so it cuts down I'm hoping on my air conditioning bill should I leave up (which it seems to be the case) some of the panels all year round.
The price point is better I found (I saved around $1,000) from the metal ones and I'm hoping to get savings on my homeowner's insurance. I think I will also be able to re-coop the price of the panels at a home sale should that occur in the future. Who knows, may even be a selling point!
I don't know about you, but I'm not going to run around like last year with Irma-I'm just shopping for a generator next to get through a few days if need be.
If you are interested in getting an estimate, you will get a discount going through us-we just want you to be safe and ready!
Call 941-713-6176-Hurricane Panels Direct, Inc.

---
Your Comments