5 Ways A PEO Can Help You Manage Dangerous Risks
Any endeavor worth pursuing comes with a certain element of risk, and running your business is no exception. While you've probably taken steps to work with an insurance agent and your attorney to minimize product liability risks or contract disputes, what have you done to minimize the risk of human error, or accidents?
Professional employer organizations (PEOs) offer among their services, risk management. Risk management includes establishing policies and protocols to minimize potential workers' comp claims and discrimination lawsuits, minimizing the risk from drug or alcohol abuse in the workplace, and managing other risks. With a PEO by your side, you have an active risk management structure in place to help you keep your business thriving with minimal problems.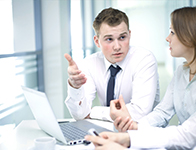 Five Ways a PEO Can Help You Manage Risks
As a co-employer of your staff, your PEO has a vested interest in creating and maintaining a safe work environment. When working with a PEO, consider these five ways they can help you manage potential risks.
Ensuring adequate workers' comp plans are in place: As part of their services, a PEO handles the workers' comp insurance needs for the employees. This includes ensuring full compliance with workers' comp policies, finding a good plan to cover employees, and making sure that coverage it up to date.
Handling workers' comp claims promptly: Another aspect of workers' comp is handling claims promptly and efficiently.
Occupational Safety and Health Administration (OSHA) compliance: A PEO may conduct an audit of your firm's OSHA compliance history and suggest changes and updates at your facility to ensure compliance. Such steps improve the safety conditions for your workers, minimizing the risk from potential accidents.
Substance abuse programs: Companies leave themselves open to risk when they fail to address potential substance abuse problems among employees. Whether it's drugs, alcohol or prescription drugs, substance abuse can lead to impaired judgment, accidents and more. Proactive substance abuse programs and drug-free workplace programs mitigate such risks.
Loss prevention: Employee theft can lead to substantial property loss and risk. PEOs may take the lead in employee loss prevention efforts by frequently monitoring at-risk areas, adding security features, and otherwise helping you prevent loss through employee theft.
Lastly, and perhaps most importantly, with a dedicated professional employer organization working with your staff, there will always be someone able and willing to answer employee questions about insurance, safety concerns, potential problems, and more. Employees who feel listened to, and respected by their companies, are more likely to cooperate to solve problems rather than resort to threats, lawsuits and more. When you have a PEO working with you, you'll always have a team on call to work with employees to resolve issue, defuse tensions and manage risks.
---
Your Comments