Holidays + Vacation + Illness = Paid Time Off
The traditional approach to paid time off (PTO) involves allocating and tracking the number of days employees use in different categories, such as holidays, vacation and sick time.
Recordkeeping can get complicated. Paid time off in each category might be available to employees at the beginning of the year, or it might accrue throughout the year. Each category usually has restrictions on when an employee can use it. For example, employees can use holiday PTO only on specific days. Vacation days might not have any restrictions, but an employee might be required to schedule the time off in advance.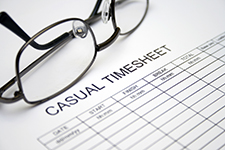 Single Paid Time Off Pool
There's a way to cut the recordkeeping and costs: A single PTO pool. With a single PTO pool, employees use their PTO as they please. There's no distinction between a vacation day and a sick day. PTO simply accrues during the year, either in hourly or whole day increments.
Reduced Cost
A single paid time off pool might reduce the overall cost of providing paid time off benefits to employees in two ways:
The cost to administer the plan might be lower because it requires less effort to track a single category.

Most organizations that convert to a single PTO pool offer fewer days off than the sum of the number of days provided in separate categories.
Preferred by Employees
Employees usually react more favorably to a single PTO pool. It's easier for them to track, and it provides flexibility to use their time off in a way that's most beneficial to them. With a single PTO pool, an employee no longer has to explain to a supervisor whether she's ill or taking a vacation day.
Longer Vacations
Companies that implemented a single PTO policy have found that employees tend to save their PTO time to take longer vacations. You'll benefit from their return after vacation since they're more refreshed and less stressed. Vacation has been shown to reduce the risk of heart disease in both men and women.
No Reserve for Emergencies
A single PTO pool is not without its disadvantages. Some employees might not be responsible enough to budget their PTO prudently when it's in a single pool. If an employee uses all his PTO for vacation and then has an unexpected illness or an emergency, he might not have any PTO remaining.
Employees Come to Work When Ill
Companies that converted to a single PTO pool have found that employees come to work more often when they are ill so they don't have to sacrifice a vacation day. This can spread illness to other workers.
Employee Use All PTO Hours
While a single PTO pool might have fewer days than the number of days provided by separate categories, employees tend to use all of their PTO time when it's in a single pool. Most employees don't use all of their sick days in the traditional plan design.
---
Your Comments