8 Flowering Plants that Can Withstand the Summer Heat
With summer approaching, you might be wondering what kinds of flowers you should plant. Some species of plants are known to withstand warm weather, making these types of flowers a great choice for your summer garden.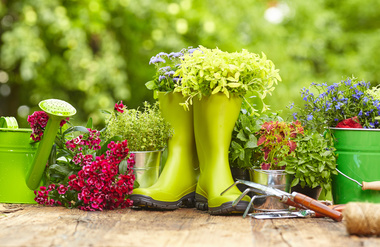 1. Marigolds
Marigolds are known for their spectacular golden flowers. These unique blooms are a popular choice for photography as well as floral design. Landscapers like to use marigolds because they are easy to care for and make a great centerpiece for vibrant gardens with tons of contrasting flowers.
2. Pineapple Lily
The pineapple lily grows in tall bunches, roughly the size and shape of a small pineapple. Interestingly enough, this plant is closely related to a common dinner item: asparagus. This plant flourishes in the summer and works equally well in a flower pot or a flower bed. Since it only grows to a height of 12-15 inches, this is a popular choice for both indoor and outdoor flower pots.
3. Coreopsis
These popular flowering plants will bloom throughout the summer and into the fall. They are a low maintenance option, making them a popular choice for families with packed schedules. They come in a variety of colors, but the most common variant is yellow.
4. Gloriosa Lily
This plant is another popular subject for photographers. If you have a small yard, the Gloriosa Lily might be a good choice since it prefers to grow straight up fences rather than spread out across the ground. One drawback, however, is that this plant is poisonous if eaten, so think about choosing something else if you frequently have small, curious children exploring your yard.
5. Black Eyed Susan/Gloriosa Daisy
This type of flower is great for animal lovers since they tend to attract hummingbirds, bees and butterflies. Gloriosa daisies thrive in the summer as well as in cooler weather and are usually between two and three feet tall.
6. Dahlias
Dahlias have a round shape with perfectly symmetrical petals. They are great for all kinds of floral arrangements with their dozens of tiny petals radiating out from a lighter colored center.
7. Snapdragon/Beardtongue
Originally a wildflower, the cone-shaped blooms of the beardtongue plant attracts hummingbirds and usually reaches a height of around 3 feet. It prefers sunny weather and needs plenty of space to grow and flourish. You will do better planting beardtongue in a flower bed rather than trying to tame it by planting it in a pot.
8. Yarrow
Yarrow is often used for summer wedding bouquets, with its clusters of tiny yellow flowers providing a nice backdrop for other, more vibrantly colored blossoms. It easily adapts to warm weather and does not require very much upkeep. Just prune the plant occasionally to keep it from spreading outside its designated area.
You cannot go wrong with any of these flowers, so choose one and enjoy your beautiful summertime landscaping.
---
Your Comments