How to Manage a Cafeteria Plan
A cafeteria plan is a written employee benefits plan that meets the requirements of Section 125 of the Internal Revenue Code. Most commonly, cafeteria plans come in the form of premium-only plans and flexible spending arrangements.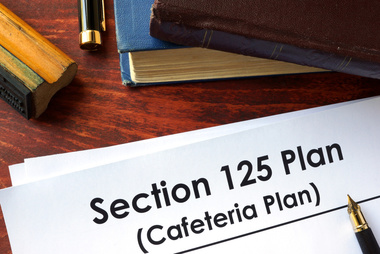 Cafeteria Plan Provisions
With a premium-only plan, employees pay their premiums—such as for health, life, and disability insurance—with pretax dollars instead of on an after-tax basis. The premiums are directly withheld from employee wages before certain taxes are taken out, thereby lowering their taxable wages and increasing their net pay.
With a flexible spending arrangement, employees set aside a specific amount of money for the plan year, as defined by the Internal Revenue Service, to pay for qualified benefits, such as medical care, dependent care, adoption assistance, and transportation expenses. These funds are deducted from employee wages on a pretax basis (resulting in tax savings) and are subject to withdrawal when the employee submits claims for reimbursement.
Tax Exclusions and Implications
A cafeteria plan enables employers and employees to save on their portion of payroll taxes, provided the benefit is excluded from those taxes.
Most cafeteria plan benefits are excluded from federal income tax, Social Security tax, Medicare tax, and federal unemployment tax. Social Security and Medicare taxes, however, must come out of group term-life insurance coverage that exceeds $50,000. In addition, adoption assistance benefits are subject to Social Security tax, Medicare tax, and federal unemployment tax.
Although most states exclude cafeteria plan benefits from state income tax, not all states follow suit. In New Jersey, cafeteria plan benefits are subject to state income tax withholding. Also, the state may or may not exempt cafeteria plan benefits from state unemployment tax. If the state or local government imposes other types of payroll taxes on employers and employees, you'll need to figure out whether the benefits you provide are subject to those taxes as well.
Note that if the benefit is taxable, it must be reported in the appropriate taxable wages box of the employee's W-2 form.
State Initiatives
Some states have incorporated a cafeteria plan approach in their health-care reform efforts. Employers in Connecticut must offer a cafeteria plan if they provide health insurance benefits that are partially paid for through payroll deductions. In Massachusetts, employers with 11 or more full-time or full-time equivalent employees must offer at least a premium-only cafeteria plan or pay a penalty for failing to do so—this framework is similar to the Affordable Care Act.
Cafeteria plans must meet a host of other regulatory requirements. For example,
A compliant plan document needs to be established
A Summary Plan Description must be given to all participants
The plan cannot discriminate in favor of highly compensated employees nor on the basis of protected classes such as age, gender, and race.
To remain on the right side of the law, the plan must be scrupulously managed. For assistance with the tax implications of your company's cafeteria plan, contact us today.
---
Your Comments