Diversity and Inclusion: Why Both Matter
According to the Society for Human Resource Management, "diversity is the collective mixture of differences and similarities that includes, for example, individual and organizational characteristics, values, beliefs, experiences, backgrounds, preferences and behaviors."
On the other hand, inclusion is "the achievement of a work environment in which all individuals are treated fairly and respectfully, have equal access to opportunities and resources, and can contribute fully to the organization's success."
Simply put, diversity is a noun, exemplifying the who, while inclusion is a verb, personifying the how.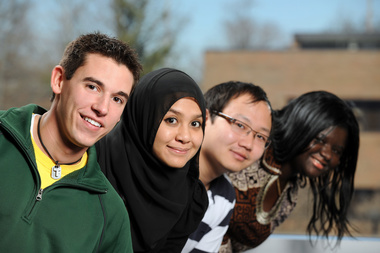 Diversity traits can be visible — such as skin color, gender, age, body size and behaviors — or invisible — such as religion, sexual orientation, values, belief, thinking style, work background, marital status, habits, education and communication style. Employees may share some of these traits, or they might have completely unique characteristics. The result is a workplace with an amalgam of talent and potential.
Why diversity and inclusion are equally important
According to Pew Research Center, no racial or ethnic group will be a majority in the U.S. by 2065. Further, Gallup reported that more adults in the U.S. are identifying as LGBT, increasing from 3.5 percent in 2012 to 4.1 percent in 2016. In addition, the Department of Labor says that women's participation in the U.S. workforce has soared since World War II, growing from 32.7 percent in 1948 to 56.8 percent in 2016.
But, a diverse workplace is just that: a mix of different people. Simply hiring more minorities doesn't incite growth because inclusion is needed as well. Without inclusion, the talent and potential of these individuals will be untapped and ultimately wasted.
Through inclusion, you're able to understand and embrace the different people in your organization. This is accomplished by formulating strategies for making all employees feel equal and accepted, thereby building trust and encouraging individualism. Employees are empowered to share their knowledge and ideas, leading to collaboration and innovation — two critical drivers of business success.
Real-world results
Per a study by the Center for Talent Innovation, organizations that embrace diversity experience higher market share and a competitive edge when targeting new markets.
Research by the Institute for Public Relations and Weber Shandwick revealed that millennials are more likely than Gen Xers and baby boomers to consider a company's diversity and inclusion policies when selecting a job.
A survey by McKinsey & Company concluded that racially and ethnically diverse companies are 35 percent more likely to yield revenue above industry medians. Further, gender-diverse companies are 15 percent more likely to earn revenue above industry medians. Lastly, in a survey by Glassdoor, more than half of employees said that their company should be more diverse.
The statistics are telling: Diversity and inclusion improve both company revenue and employee satisfaction.
---
Your Comments