Edible Benefits: Offering Free Food in the Office
The idea of giving employees free food may have gotten its start at investment banks and law firms in the 1980s and 1990s. Back then, it was a transparent effort to encourage fixed-salary employees to stick around for an extra hour or two each day. If the offer of free food motivated a law associate to do an extra 10 minutes of billable work per day — when the firm was billing that associate's time at $200 per hour or more — then the investment was worth it.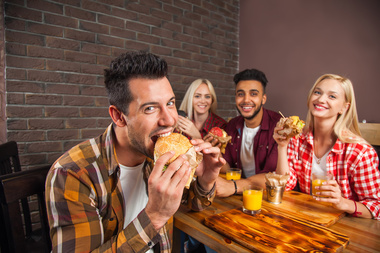 Media and technology companies caught on to the practice in the 1990s. At Bloomberg, free snacks and coffee, cereal and fruit baskets, ramen noodles and soup, and every type of soda and packaged salty snack you could imagine were available.
But today, you don't have to be a hard-charging Wall Street firm to see the value of making your employees happy by offering snacks or weekly lunches at your place of business. It can be a real morale booster, even if you're providing nothing more elaborate than pizza or hero sandwiches.
This benefit works even better for organizations that are not near easy-to-reach luncheonettes. If you can save employees 30 minutes a day or encourage them to work 30 minutes longer and that is worth $50 to you, then providing $25 worth of free food and drinks per day is an investment that pays off double every single day. And that doesn't even include the intangible benefits of employee satisfaction.
But Don't Go Overboard
Google was rumored to have a "150 feet" rule — no worker should be further than that distance from a food outlet. Canteens at Google and Facebook are filled with hot meals, desserts and drinks to improve morale — and an overall sense of well-being. Not to mention serendipitous interaction leading to creative discussions.
But psychologists worry about too much work and not enough life outside the office. You don't want employees to feel that the free food is nothing but a bribe to keep them working nonstop.
You don't need to have a continuous hot buffet. In fact, at one office everyone got a big kick out of nothing more than a free seltzer machine in the office kitchen. And even offering something is going to make you stand out: According to a survey from Peapod, a food-service provider, 67 percent of those who have access to free food say it makes them extremely or very happy. But of the 1,000 full-time office workers in the study, only 16 percent said they get free snacks and treats at work.
Free food helps employees be more excited about coming to work. And for millennials, it is the norm — you kind of have to meet those expectations.
Bottom line: Employees who are more engaged — who want to come to work and do a good job — are more productive. Productivity drives improved financial results. And aside from good perks, other small things can boost employee morale. Being a boss who encourages employees to think broadly, ask good questions and find new solutions — who recognizes their efforts and rewards contributions both fiscally and psychologically — also helps.
---
Your Comments