ARTISTS IN YOUR NEIGHBORHOOD
When you decide where you want to live, you might consider if the area has a vibrant artist community and what the culture is like. Does it have a vibrant music scene? Are there places to go see theater or concerts? Is there live music? When I moved to Shepherdstown over 30 years ago, things were a heck of a lot different in our area, but I can say now that our talent is deep. Our people are good and our community is strong. And I believe art and the arts is an important part of why many decide to call a place home.
I grew up surrounded by an artist community, by creativity, by theater and music. My Dad, Bradley Sanders, is an artist, really a journeyman who has worked and studied in just about any medium you could imagine. I was emmersed. My Mother, Carol Ann is an amazing culinary artist. She has been creating foods of different ethnicities and flavors and textures my entire life. My sisters, my brother, my brother in laws, my uncles and aunts, and many around me are masters in their trade. Wood, metal, fabric, collage, mandolin, theatre, jewelry...well you get the idea! Over and over again, I hear...I have to create. It is part of me. I am compelled. You will see in the artist interviews below, many say the same. Many are part time artists and some are lucky enough to have made their art their living. The interview asks them questions like what compels you, why do you create? What inspires you and how long have you been creating?
I hope after reading this, you take a minute to tell an artist that they are awesome. Tell them they inspire you. Tell them how important they are to enriching our communities. Thank them. And, if you have the means and an empty spot on your wall, your shelves or your ears...buy something. They will keep creating with or without you, because they must, but your support makes a difference to these special folks. Make sure you like their FB pages and check out their websites! If you are an artist in the Eastern Panhandle, reach out and I would love to spotlight you on one of my monthly newsletters.
1. Chris Steffey Painting-Jefferson County, WV
I work in a variety of mediums from Pencil to found objects. I really enjoy doing Installations. When I create an installation objects I use are often self portraiture in nature. In my last show I used old dried up brushes, roller naps and paint lids all of which came form previous jobs from my house painting business. I want to show people how I see things I want to invoke emotions and find beauty in things that would otherwise go unnoticed. I am currently formulating a couple of ideas for a new installation to be shown at the Town Run Tap house in the spring. One of which is "Sticks and Stones." Chris's Contact: 304-268-9215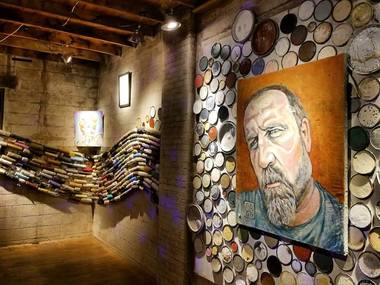 ---
---
2. Dana Wyatt Art-Jefferson County, WV
T
he thing that I love the most about creating art is that I can take a thought, a feeling or a concept and express that to others visually and initiate an emotion. To be able to give someone something tangible that has come from me is very rewarding. Last year was an extremely difficult year for me. I was diagnosed with breast cancer and had to undergo surgery, chemo and radiation. While going through chemo I worked on my solo show for the Audubon Center and so it was extremely meditative and healing. It helped me realize what is important and what I really want from life. Art gives me the space to be introspective and forces me to investigate myself and what I want people to know about me.
I am completely in love with nature. Animals are my true love, birds in particular. I was always the kid that would be looking through national geographic magazines or reading outdated zoology books. The natural world absolutely fascinates me. The colors, the amazing structures that animals and insects create by pure instinct. There's never a lack of inspiration in nature, it's so pure and honest. I am very inspired by the art of Vanessa Foley and Zoe Keller. They both focus on nature and conservation and are amazing pencil artists. I am also a huge fan of the watercolor works of Marta Spendowska, Ali Cavanaugh and Dan Marshall.
I have always been drawn to pencils, ha! I create very detailed drawings, and I like the precision I can get with pencil. They are so versatile and don't need mixing or drying time. I also work in watercolor, a medium I fell in love with back in college. It can be so vibrant or subtle, and I just love the fluidity. Watercolor can be very difficult to work with because it can be quite unpredictable and mistakes are not fixed easily. I like the fact that it kind of has a mind of it's own.
I've been drawing as long as I can remember. It has always been a part of my life. It's funny, I didn't draw much in high school and didn't take many art classes but a couple years after high school I decided that I wanted a career in the arts. I went to Moore College of Art & Design in Philadelphia, Pennsylvania. It was the best decision I've ever made, and I haven't stopped creating since.
I have found that the most difficult aspect of being an artist has been finding my place in the art world. It took me many years to find my style and my medium and to figure out what I want to express through my work. I think that it is really hard to be authentic and not be influenced by the work of others or what you think you "should be" creating or what may be only financially beneficial.
In answer to the question, "Why are you an artist?" That's a great question, one that I ask myself all the time! Haha! I think it's in my DNA. It's what I love to do most and it makes me the happiest. It feeds me, repairs me, allows me to escape and I feel completely alive when I do it. I love the Pablo Picasso quote "The meaning of life is to find your gift. The purpose of life is to give it away." I truly believe this. I am always trying to improve my skill and better express myself. My work is a form of self-exploration. I feel as though the more I create the more I learn about myself. It helps me examine what is important to me and what I want to give and/or require from others.
Last summer I had a solo show at the John James Audubon Center at Mill Grove, near Valley Forge, PA. I am working towards exhibiting more this year.
Dana is a stay at home mom to her 7-year-old daughter and 3-year-old son. Her plan is to become a full time artist soon. You can find her art on her website, www.danawyatt.com. She offers open edition and limited edition prints that range from $25-$65, originals ranging from $275-$475 and pet portrait commissions that start around $400.
Where you can find out more about Dana's work
WEBSITE/SHOP: www.danawyatt.com
EMAIL: danawyattart@gmail.com
FACEBOOK: www.facebook.com/danawyattart
INSTAGRAM: @dana.wyatt
---
---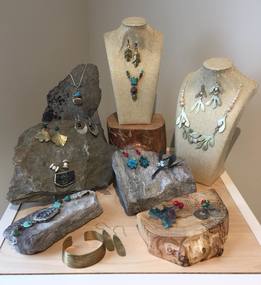 3. Even Rose Love Jewelry/Roselyn Sanders Mendez-Jefferson County, WV
I design and hands fabricate jewelry in copper, brass and sterling.
I have been creating art as long as I can remember. It took a long time to learn the skills in order to flesh out the ideas though. And it took experimenting with many types of materials to discover that metal is my happiest one. My work can be found at various Arts festivals in the region throughout the year. For me being an artist allows me to express things that I cannot articulate verbally. Most of my work has a natural or botanical influence and this is because, to me, there is a sacredness, an inexpressible beauty and power to nature and plants. When I am creating a piece it allows me to muse over the intense beauty of nature and create a gestural ode to nature. The natural world, my garden and wildflowers, fairy tales and years of working with antiquities in museums inspire my work.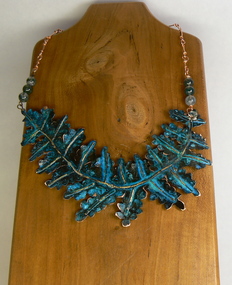 I am a working artist. Full time and sometimes overtime during the market seasons. I am an artist because the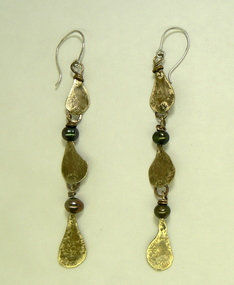 desire to create and express myself through art is an undeniable part of who I am. I come from a long line of creative people. For me art is a meditation, an articulation of ideas that can't be described with words. The most difficult part of being an artist is more the "housekeeping" of a small business, budgeting time to inventory, and market myself on social media and other marketing platforms.
I have so many favorite artists in the area. Some are painters like Morgan Sell, Susan Carney, Jason Care, Sonya Evanisko, Kelly Scudieri, Michael Davis Some are sculptors like Scott Cawood, Bruce Franzen, Some are potters and ceramicists like Joy Bridy, Lisa Kovatch, Ann Rule Thompson, Maureen Alvarez, Others are photographers like Misty Higgins, Molly Humphreys, Benita Keller Some do mixed media like Dana Wyatt and Tara Bell. Others work in more unusual materials like Anne Bowers basketry, Liz Goins paper cuts and Jeni Peterson and her flowers.
Rose's work can be found regularly at Rivers gallery in Bolivar, Gifts Inn in Boonsboro, Creative Procrastinations in Shepherdstown, and The Delaplaine Gift Shop in Frederick. Also, one of her pieces has been displayed in the bodice project traveling exhibition. Online her work can be found at www.evenroselove.com, www.etsy.com/evenrose, www.instagram.com/evenroselove, and www.facebook.com/evenrose and at www.riversstudioandgallery.com. The price range of her work is generally $40-$400.
Where you can find out more about Rose's work
WEBSITE: www.evenroselove.com
EMAIL: rosehsm@gmail.com
ETSY: www.evenroselove.com www.etsy.com/evenrose
INSTAGRAM: www.instagram.com/evenroselove
FACEBOOK: www.facebook.com/evenrose
---
---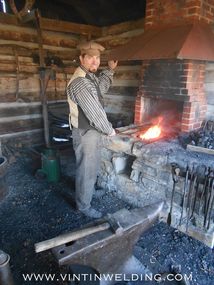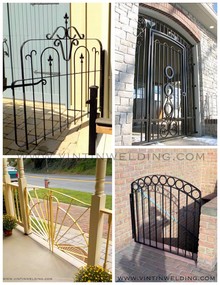 4. Vin Tin Welding and Fabricating/ Danny Trenary-Berkeley County, WV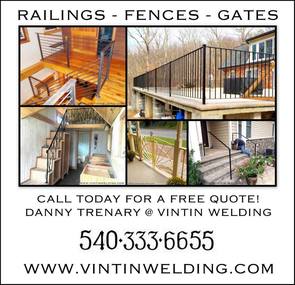 I work in metal. I have been creating art as long as I can remember, but I've been creating art with metal for about 20 years. The most rewarding thing about being an artist is the reaction and feedback we receive from clients. I would say that my creations are inspired by Old Americana from the 1800s. My favorite fellow artist is Lee Badger from Anvil Works- metal.
Danny Trenary is a full time artist and his business supports his family, so his wife can stay home with the kids and homeschool. You can find his work for sale on vintin.etsy.com. He also has piece on display at the Torpedo Factory in DC. The pieces range $20-$2,000, or more if it's a wrought iron railing.
When asked "Why are you an artist?" That's like asking me why I have brown hair... It's part of who I am. And, the most difficult aspect of my being an artist is having to be creative 6 days a week whether I feel inspired or not. But, I am compelled to create by my dedication to my wife & 6 kids, and my mortgage payment.
Where you can find out more about Vin Tin's work
FACEBOOK: www.facebook.com/VinTinWelding
INSTAGRAM: www.instagram.com/VinTinWelding
TWITTER: https://twitter.com/VinTinWelding
YOUTUBE: http://www.youtube.com/channel/UCHimSstGct0Z61Rit2CB2NA
BLOG: http://vintin-welding-and-fabricating.blogspot.com/
PINTEREST: http://www.pinterest.com/vintinw/
WEBSITE: www.vintinwelding.com
EMAIL: vintinwelding@gmail.com
PHONE: (540) 333-6655
---
---
5. David Heatwole Art-Berkeley County, WV
I work in a great number of mediums. For painting I prefer oils and Acrylics. When I draw, I use colored pencil. My work usually has to do with Energy, synergy and connections to the seen and unseen. Another art medium I am passionate about is using a bigger brush and I call this medium Creative Community Collaborations. It is basically a practice in synergy which is a form of manifestation of my fine art. It is basically a way to work with other people who bring their talents to the table and together we work together to make something unique and we do it in a particular framework.
I am fascinated by life and the hidden things that we as a species discover from math to science from art to philosophy with that said I can be inspired by practically anything but direct my artistic expression to telling visual stories about myself and my walk through this world and how we are connected on a level unseen by our earthly eyes.
I was raised at the elbow of an artist and am an 11th generation artisan in my family so it seems that I was born to create And creating art since I was a child, I have been looking intently at it and considering it since I was about 4. I remember watching my Dad sculpt and paint his woodcarvings. Making something with ones own hands fulfills so many needs, but I think it is connecting with people that art allows me to do on rare occasions. I look for a certain type of people that are rather rare to find and my art helps to make that connection.
In the past I felt a great need to be part of something with meaning. Through all my years I finally realized that in my particular field of art I might just be contributing to something bigger than myself. I use art to communicate with other people and an invisible source of life which I call "God" and I have discovered over the many years of contemplating, searching, and watching life and the world that this God is beyond brilliant. When I go into the studio to work I try to allow my hand to create works of art that he would want created. I believe to a certain extent the famous saying by Russian Author Fyodor Dostoyevsky who wrote, "Beauty will save the world". I would never even have heard of this brilliant author if I hadn't been led to the faith shared and held by the Eastern Orthodox Church. Making art and using art to bring people together is my full time job.
I love art and have been a collector since I was in my early teens. I have had to curb my buying/collecting activities due to space limitations. I have to many favorites. Because of my passion for fine art I always seek out great art. Locally, there are so many great artists but for exceptional contemporary art that I absolutely love I would have to direct people to these three fairly local artists sadly I don't own work by any of them yet: For sculpture I love Scott Cawood who works in metal out of his studio in Sharpsburg MD, for collage I adore the work by Cathy Wilkin of Harpers Ferry and for sculptural paintings Doug Moulden out of Frederick.
I have had a solo exhibit in the Museum of the Shenandoah Valley and have a work on display now at the Washington County Museum as part of their annual call for entries. What is stranger to me is that in the Museum of the Shenandoah Valley they have a work of art of me in their collection that was drawn by my father that they purchased at an auction of his work. I have more pride about that than my art being in museums.
When asked what the most difficult aspect of being an artist, he answered that promoting one's own work can be a challenge but even harder is working with people.
David's work can be found in a couple of galleries in Virginia and locally at Queen Street Gallery in Martinsburg. He also sets up at various local festivals. He uses Facebook a lot to sell his work and has an online archive/website that he directs traffic to: https://www.artworkarchive.com/artwork/david-heatwole. His work ranges from $30 to about $3000 and it is important to him to keep the work affordable for everyday folk. He mentioned that sadly most of the "everyday folk" buy prints that cost up to twenty-five cents to produce at our various department stores.
Where you can find out more about David's work
Artistic mission can be read at www.thisartistsdream.com.
FACEBOOK: https://www.facebook.com/davidheatwoleart/
WEBSITE: https://www.artworkarchive.com/artwork/david-heatwole
---
---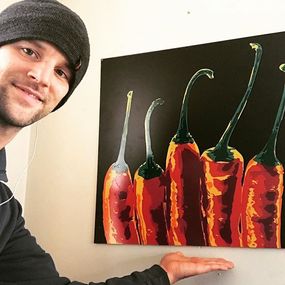 6. Matthew Denton-Jefferson County, WV
I have been creating art my entire life. I started oil painting at the age of 12. The first art show I had was at the age of 21. It was a series of photos from 4 different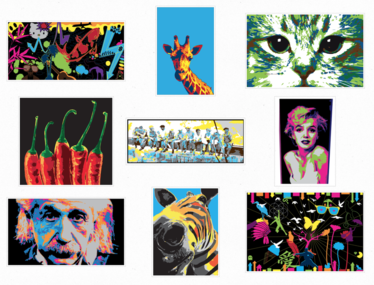 cities in Spain. I repurpose outdoor vinyl (sticker material) and sheet metal scraps. I also paint with acrylic on canvas. I have art throughout the world. A goal of mine is to have a piece of my art in all 7 continents. And yes! Antarctica too! So far internationally - Australia, Asia, Europe. I have a piece in a Military Museum in Kuwait. North America in the states so far - CA, TN, FL, DC, AZ, VA, WV, locally Martinsburg - Daily Grind, The HUB, Shepherdstown – a mural in Domestic, Mecklenburg Inn, Green Pineapple, The Source, Mellow Moods, Berkeley Springs - Fairfax Coffee Shop Charlestown - Abolitionist Ale Brew Co, Black Dog Coffee.
I love being an artist because I get to do what I want to do. I get to be me - and express myself however I feel or want to. I like creating pieces for other people as well. I love it when people ask me to make something custom for them! I am an artist because I love to create beauty and express my inner self. I love to use my hands to mold and shape the clay of life. I like to use bright/vivid colors. I want the observer to feel alive and charged when they look/experience my art. I like to create to build a bridge from my inner to outer world. This allows me to connect to others. It's fun to create and I like to have fun. Sometimes I get these spontaneous urges (I don't know where they come from) to create/design. They seem to come out of nowhere. But I love it when they come. I love to travel. I am always inspired when I adventure away from my hometown to somewhere new. There will always be new people, new food, new beer, new buildings, new sites, new art and new music when you go to different places. It's all about a vision. If you can't see yourself somewhere doing something in the future then you will never get there!
I think when you first start out as an artist it can be difficult/challenging getting your artwork out for the world/people to see - exposure. This takes time, dedication and love for what you do.
Growing up I was a huge Bob Ross fan - oil paint on canvas. I love Chuck Close, Picasso and Leonardo Da Vinci. I have also been playing music for 22+ years. More information at FB: newsunriseproject , WEB www.newsunriseproject.com/
Matthew owns two businesses- Hau Ink & Herban Sprout and started a third Stickeryourworld.com IG @stickeryourworld, so his art is a part time venture. His artwork ranges from free to $5000.
Where you can find out more about Matthew's work
ETSY: https://www.etsy.com/shop/SunriseProjects
At the end of this month I will have my art for sale on an international art website based out of the netherlands - www.1340art.com
COMMISSION ART: 304-707-2002, meandmybanjo@gmail.com
IG: @mattcolorstheworld, @stepfhandmatt FB mattcolorstheworld
WEBSTORE: https://mattdenton.artstorefronts.com/
WEBSITE: www.mattcolorstheworld.com - this will give you a good understanding of how I make my art.
---
---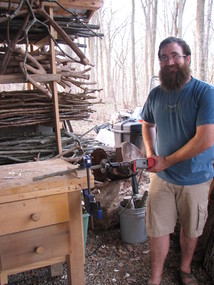 7. Arcadian Furnishings/Tim Wohleber-Jefferson County, WV
My medium is wood. I've been making twig furniture for 18 years but I've been creating art for as long as I can remember. I mostly sell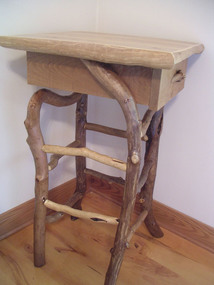 my work at local shows including Over The Mountain Studio Tour and from my home. The most rewarding thing about being an artist is meeting the people who take my work home. The most difficult aspect of being an artist is not knowing when the next order will come in. I love making functional pieces that also look cool. My inspiration comes from nature.
Tim creates his furnishings as a full time gig, along with being a stay at home dad. You can find his art for sale online at Arcadianfurnishings.com. The price range for is work is $10-$1500.
Where you can find out more about Tim's work
PHONE: 304-642-2455
EMAIL: ArcadianFurnishings@yahoo.com
FB: www.facebook.com/Arcadianfurnishings
---
---
8. Ann Rule Thompson-Jefferson County, WV
I work in ceramics. I use low fire earthenware and sculpt low relief tiles and figurative pieces. The surface decoration in my work tends to be experimental. I use under glazes in the green state, and various washes and glazes in the final firing. I often work with materials in unconventional ways such as adding glass or metal to my pieces.
I'm inspired by people and how we are affected by nature. Water and rock have been a major subject in my recent work. I've been experimenting with glass and it's similarities to water when it melts in the kiln. For me it's about finding ways to allow myself the time and environment to feed this innate need. I'm an artist because that is what is inside me.
I have been creating art my whole life, but I didn't move into ceramics until about 15 years ago. My formal training was in painting and I was a muralist for several years. I was also an art teacher. I have always had the need to create, so without that outlet I become very unhappy. I have also really enjoyed connecting with the community whether it's other artists or the customers who are buying my work.
For me, the most difficult part is balancing the gallery work with my own work. I find that it's difficult to do it all well. I want to be working on my own sculpture all the time, but marketing, curating, sales, community outreach, and family often take a front seat.
I have several sculptors who are working today that have influenced my work, primarily Cristina Cordova, Lisa Clague, and Deborah Fritts. (Incidently Deborah Fritts has three sculptural cups in the Soul-Full Cup Exhibition!) I also look a lot at artist who work in encaustic. I'm really attracted to the layer and experimental surface treatments in this medium. I like to translate some of these ideas into ceramics.
My art is my full time profession. I was an art teacher for year, trying to create my work on the side. I found that my creative energy was drained from teaching so I went to work full in sculpture several years ago.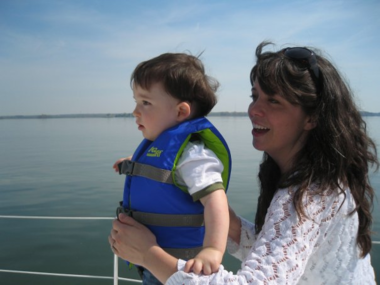 You can find Anne's work at her studio and Gallery in Harpers Ferry called Rivers Studio & Gallery where she also carry the work of other artists. The Rivers Studio and Gallery website (www.riversstudioandgallery.com) will launch an online store in February in conjunction with the most current Exhibition, The Soul-Full Cup, which will open January 26th. (Opening Reception January 26th, 6-8pm) Along with Anne's work, there will be cups created by artists from around the country. Her work runs from $60 for small tiles, to several thousand for figurative pieces that take months to create.
Where you can find out more about Anne's work
WEBSITE: www.annerulethompson.com
FB: https://www.facebook.com/Anne-Rule-Thompson-Ceramics-1325943257455951/
INSTAGRAM: https://www.instagram.com/annerulethompsonceramics/
For sales and to see the gallery, Rivers Studio & Gallery are at:
www.riversstudioand gallery.com
FB: https://www.facebook.com/RiversStudioandGallery/
INSTAGRAM: https://www.instagram.com/riversstudioandgallery
---
---
9. Neal Martineau-Jefferson County, WV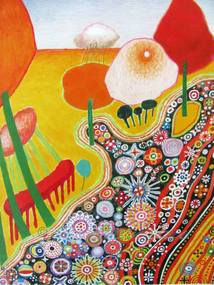 My mediums are acrylic, crayon, pencil and spit. I started creating art at 6 months (painting wall with poop). I display my art at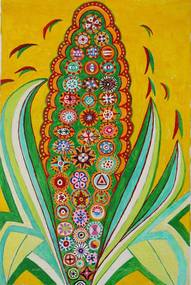 shows/exhibitions and restaurants. I find creating art is fun. It is stressful when there are no sales. My favorite artists are Pierre Bonnard and Charles Schultz. My art is inspired by sex. I am an artist because I am a human being. I am most inspired by an empty canvas. My creations range from $100 to $1500.
Where you can find out more about Neal's work
ADDRESS: Box K Shepherdstown WV 25443
EMAIL: nmartineau@frontiernet.net
PHONE: 304 876 1055 and 404 226 3656
FACEBOOK: "Neal Martineau Art"
---
---
10. Cassidy Raye Ponton-Jefferson County, WV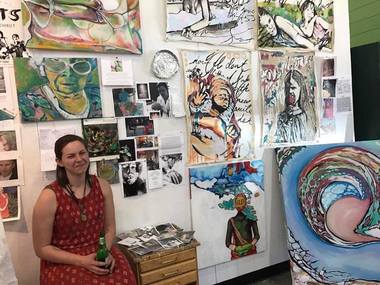 I work with a series of mixed media techniques including the following materials; acrylic & oil paint, graphite & charcoal, and cremated remains. In addition, I am a face & body painter, a henna artist and a musician.
I have been creating art with my hands as early as I can remember and as early as I can remember, my mother and grandmothers were creating art with me.
I am most inspired be my ancestry. I use the creative process as a channel, not only to connect with myself, but as a way to connect with both the living and the dead. I am inspired by my professors who are dedicated to helping their students grow and my colleagues that are going through the same vigorous process of obtaining a Bachelor of Fine Arts. Conscious music and sacred plant medicines have influenced and guided me throughout my journey as a maker. I am an artist because I have to create or else I will chew my fingers off. Having been diagnosed with social anxiety at 12 years old, I have used the creative process as a healing modality to help me cope with this seemingly, crazy world we live in. Aside from the university deadlines, I am compelled to create by emotional impulses and a dire need to purge and transform my anxiety into something beautiful. In my wildest dreams, I am painting and singing with friends and family; all of the time. My first and foremost intention as an artist is to enjoy the process and to stay present. I am afraid that if art were my full time job, it would squash the sacred relationship I have to the creative process.
The most rewarding thing about being an artist is the cathartic release of emotion and thought that comes from being present with a piece of work. The joy and love for the creative process unfolds tenfold in my life. I am forever in service of creating and helping others to create. The most difficult aspect of being an artist is navigating the business side of things. When I am engaged with a piece, nothing else matters. Other difficulties I have found are related to finding complimentary studio spaces to make art work. For the time being, I have a studio space at Shepherd University. I feel so fortunate to have access to such a wonderful studio and to the Shepherdstown and Shepherd University communities.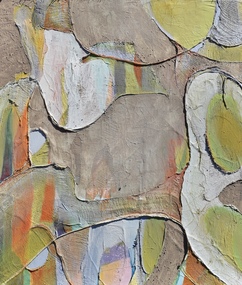 As I near graduation at Shepherd University, I plan on having my capstone show at Lost Dog Coffee, where I have worked with Garth Janssen who has been a great supporter to me in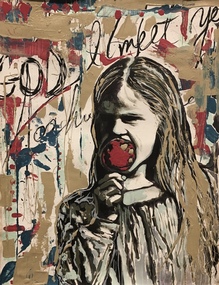 all of my creative pursuits. This event will be a great opportunity to purchase a piece.
My profession is split between being a full time student at Shepherd University working for Harman Funeral Services as a transporter and funeral attendant, and for fun; working at Lost Dog. Additionally, I am a performing, singer songwriter about to release my second full-length album.
My favorite local artist is Caliph Greene. To this day, the time I spent with Caliph in the Shepherd art studio is some of the most peaceful memories I have. Caliph works with mixed media techniques that involve watercolor, salt, and ink. My favorite memory of Caliph in the studio is hearing his breath work as he blew the watercolor across his surface. A few times, he would leave his pieces out in the rain. The salt and rain water reacted in a way that would create new, bright and blooming compositions. The two most prominent figures in my life as a maker, are Olivia Crowley (my high school painting professor and dear friend) and Sonya Evanisko (my current painting professor and friend).=
Cassi's art ranges from $75- $600 dollars and can be found on her website and facebook. See below.
Where you can find out more about Cassi's work
EMAIL: CassiRaye@yahoo.com
PHONE: 240-346-6869
FACEBOOK: https://www.facebook.com/CassiRayePonton/
WEBSITE: https://cassiraye.wordpress.com
---
---
4 State Real Estate supports the arts in their beautiful office in the heart of Downtown Charles Town. We house the 4 State Art Gallery–Art Without Boundaries where we feature a rotation of fantastic local and regional artists. We work with the Old Opera House and have art shows around the Opera House schedule of events.
TARA SANDERS LOWE WV REALTOR® 304-283-8300 (cell) tarasanderslowe@gmail.com (email) www.4stateliving.com
4 State Real Estate Office 201 N. George St, Suite 101 Charles Town,West Virginia 25443 304-885-8304 (office) Broker: JW Wohlever
---
Your Comments