Eclectic Estate Sale in Clarendon
Looking for a one-of-a-kind gift for that special person? Are you a collector of unusual paintings, furniture, or sculpture? A curious browser of all things uncommon and quirky? You won't want to miss this special estate sale, this weekend in Ashton Heights!
Joyce and Tom DeBaggio, the owners of this selection of eclectic objects, were an artist and a writer who collected myriad artworks, furniture, pottery, jewelry, clothing, and books, as well as cameras, comic books, tools, fly fishing equipment, electronics, kitchenware, and more! Joyce spent many years as a printmaker at the Torpedo Factory in Old Town and Tom was a journalist in early life, but he is best known for operating an herb nursery, DeBaggio Herbs, out of the family's Arlington backyard. The business was frequently featured in the Washington Post. He published several books on herbs and his struggle with Alzheimer's Disease which was also chronicled by NPR's All Thing's Considered. His personal book collection is a treasure trove of literature, while the paintings and sculptures represent a local artist's lifetime collection of unique pieces from all around the world. There's so much to explore, there's bound to be something for everyone!
Don't delay! Come early for your best chance to find your unique treasure!
Address: 923 N. Ivy St. Arlington, VA 22201
Hours:
Friday 12/21 11am - 3pm
Saturday, 12/22 10am - 4pm
Sunday, 12/23 10am - 4pm
For more information and photos, check out the Estate Sale website.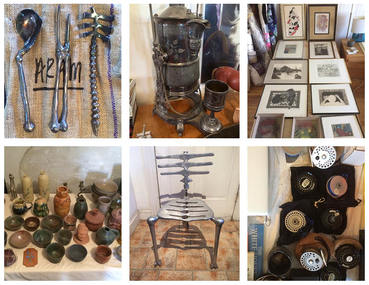 ---
Your Comments