Handling the Wages of a Deceased Employee
When an employee passes away, it's not only difficult for his or her colleagues and friends at work but also for the business itself. Employees may be stricken by grief while the human resources department struggles to find a replacement as quickly as possible. If ill-prepared, your payroll department will be thrown into a state of confusion, not knowing what to do with the employee's wages.
It's important to note that this issue is highly complex and largely dictated by state law. Therefore, the rules will vary, and many statutes will need to be investigated.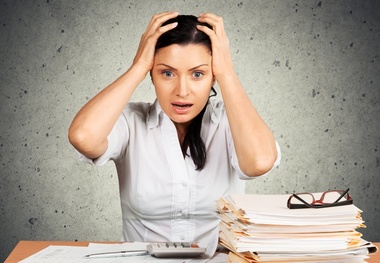 Final pay inclusions
You'll need to consult state law to determine what constitutes final wages for a deceased employee. Typically, final wages include all forms of compensation owed to the departing employee, such as regular hourly wages, overtime, salary, bonus, commission, vacation pay and fringe benefits.
Permissible recipients
State law often controls to whom a deceased employee's wages should be paid. In most cases, payment must be made to the surviving spouse or the employee's beneficiary or estate. If there's no will or estate, the state may require that outstanding wages be paid directly to the surviving spouse. If there's no surviving spouse, the employee's children, parents or siblings may respectively be next in line to receive the payment.
State law may also say how payment should be made, such as by mail to a designated address by the pay date, by direct deposit or by hand delivery to a third party as authorized in writing by the employee.
Maximum amount
Many states limit the amount that can be paid to the recipient before any estate administration, including possible probate. Some states, however, require that all unpaid wages be distributed to the designated party or parties, such as the surviving spouse or children.
Uncashed paychecks/unclaimed wages
If a check was issued to the employee but he or she passed away before cashing it, you'll need to reissue the check and make it payable to the designated recipient. If no one claims the wages, payment should be made to the state. Note that unclaimed property, including wages, falls under the state's escheat laws.
Taxation
If payment is being made in the same year that the employee passed away, withhold Social Security and Medicare taxes plus pay FUTA tax on the wages. Do not withhold federal income tax.
If the wages are being paid in the year following the employee's death, no Social Security tax, Medicare tax or federal income tax should be taken out, nor should you pay FUTA tax on the wages.
States typically follow federal law in those regards, but be sure to check with your state revenue agency in case there are exceptions.
Administering deceased employee payments is a complicated situation that usually calls for legal counsel, especially since state law might not be clear on what or how much needs to be paid and to whom and when payment should be made.
---
Your Comments