Going Green Can Save You Some Green
Manufacturers and businesses have been going green for so long now that it's quickly becoming standard operating procedure. They've realized the benefits to their bottom line, and they appreciate the earth-friendly, environmental benefits. As a result, more green jobs are being added in the manufacturing sector.
In fact, according to the Green Goods and Services report the Bureau of Labor Statistics published several years ago, the manufacturing industry provides 10.8 percent of total private employment, yet represents 20.4 percent of green jobs. Specifically, private sector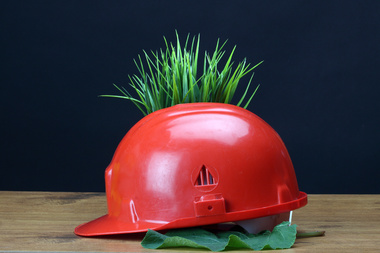 employment for green goods and services was highest in the manufacturing industry, representing 507,168 jobs in 2011.
Those jobs include any employee focused on developing or implementing eco-friendly manufacturing processes. Such positions range from production supervisors who oversee the manufacturing of energy-efficient or green products and supply chain managers who identify and reduce waste to electrical and electronic engineering technicians who improve energy efficiency and manufacturing engineers who develop lean production methods.
Embracing green or sustainable practices
You can have a significant positive impact on your business by incorporating a few core green principles and practices. The following provide the foundation for a truly green approach.
Create green facilities: You can go green by implementing some universally available eco-friendly practices in your facilities. Start with an energy audit to identify areas where the building is wasting energy. Manufacturers should use energy-efficient lighting products and automated lighting that turns on only when employees are present. Studies indicate that roughly 70 percent of the energy consumed in industrial applications is used by electric motors, so upgrade to greener models to reduce this drain.
Inspect manufacturing buildings and seal them against air leaks to enable a reduction in heating and cooling demands. Simply adjusting the thermostat to make it a few degrees warmer in the summer or cooler in the winter can also lead to big savings.
Moreover, regular equipment inspections will reveal things that are an expensive waste of energy, such as air compressor leaks, for example. Look closely at your product and supply packaging processes, too, as there may be cost and space savings available. If you can implement any alternative energy sources, such as wind or solar power, you can reduce monthly utility bills.
Choose green materials: The materials you need for your specific manufacturing processes will dictate your sourcing options. However, companies can often source environmentally friendly raw materials by obtaining them from waste streams, post-consumer waste, construction waste or renewable agriculture sources, for example. Converting from a natural to a synthetic product might work. For instance, gypsum, a mineral used in residential construction, can be purchased as a synthetic rather than a natural form that needs to be mined.
Reduce waste, recycle and reuse: Take advantage of current methods to analyze your production process and identify waste. Where applicable, automated data collection can bolster your ability to implement new procedures and enhanced automation to reduce waste and increase your green status. Determining wasteful processes lets you optimize the efficiency of your resources. Implementing recycling procedures and going paperless can lower your supply costs.
Explore the tax incentives: Finally, there are a variety of federal and state tax credits and rebates for manufacturers that implement sustainable improvements. Visit the U.S. Department of Energy's Database of State Incentives for Renewables & Efficiency (http://www.dsireusa.org/) to see whether your business qualifies.
Typically, sustainability inspires collaboration and innovation and ultimately improves your bottom line, all while treating Mother Earth to a little TLC.
For more on how you can incorporate green initiatives in your business, give us a call.
---
Your Comments