What Are the Tax Ramifications of the Affordable Care Act?
The passage of the Affordable Care Act, also known as "ObamaCare," has brought sweeping changes to the way Americans enroll in and pay for health care. These changes have major impacts on your taxes, and many of them become lost in the sea of information and debate surrounding the health care law. Here's what you need to know:
Coverage: 50 Is the Dividing Line
Beginning in 2015, businesses with more than 50 full-time employees (or an equivalent combination of full-time and part-time employees) are required to offer a minimum level of health care insurance or make payments to the IRS for any employees who purchase a plan through the Health Insurance Marketplace.
If you have fewer than 50 employees, you can offer them affordable insurance through the Small Business Health Options Program, which is known as SHOP and is housed on HealthCare.gov. The site allows you to view plans and prices, calculate your tax credit, and contact an agent or broker.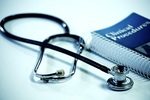 Reporting Taxes
The IRS may require you to include the value of health insurance offered to employees on their W-2 forms. Also, if you provide self-insured coverage, you will file an annual return reporting information pertaining to the employees covered.
Additional Medicare Tax
Starting in 2013, the IRS implemented an Additional Medicare Tax of 0.9 percent. For any income that exceeds a given employee's designated threshold, you must begin withholding Additional Medicare Tax, starting with the pay period in which the marker has been surpassed. Thresholds are determined by the employee's filing status. For example, if an employee files single, any income in excess of $200,000 for the tax year triggers Additional Medicare Tax. For an employee who is married and filing jointly, the threshold is $250,000.
The Small Business Health Care Tax Credit
If you cover at least 50 percent of your employees' premium costs and have fewer than 25 full-time employees who make below $50,000, you may be eligible for the Small Business Health Care Tax Credit. This program is designed to help smaller organizations, particularly those with moderate-income workers, afford insurance for their employees.
Your First Steps
The information provided above is a mere starting point in terms of understanding the Affordable Care Act and how it affects your business. For help with these provisions and more, give us a call and we'll gladly walk you through your resources, guidelines, incentives and costs.
---
Your Comments