Special for Health Care: Know Your Business Taxes
Few businesses have as complicated a financial situation as those in the health care sector, which is highly regulated and contains a wide range of employees. Although every business needs to be familiar with the rules, it is especially imperative for health care companies to be on top of the rules.
A key source of federal rules is Publication 15, (Circular E), Employer's Tax Guide, which is usually updated for each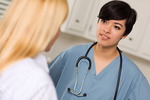 new tax year. Below are some key payroll-related issues from the most recent version.
Payroll Period. Those health care companies with regular pay periods must withhold payroll taxes for any given period, even for employees who do not work that full period. What about companies that don't have a regular pay period? Those companies must withhold the tax as if they paid wages for a daily or miscellaneous payroll period.
Keep on Top of Form W-4. Every employee must fill out one of these at the start of employment, and all are encouraged to update it as necessary. In a boon especially suited to large entities like hospitals, companies may establish a system to receive W-4 forms from employees in electronic form.
Be Aware of Social Security Rules. Federal rules require that employers withhold Social Security payments from eligible wages. (The publication lists income not subject to Social Security withholding.) Health care companies, which may have a range of employees from those on minimum wage to those who are highly compensated, should make sure they understand the amounts and limits. In 2015, both employer and employee must contribute 6.2 percent. The wage base limit is $118,500, meaning that those earning above that amount make no additional Social Security payments. However, the shared Medicare tax (2.9 percent total) has no income limit.
This is just the beginning. Any health care company — indeed, any business at all — should be sure to keep on top of the latest developments and work with a qualified financial professional.
---
Your Comments