| | |
| --- | --- |
| Here Are Your Articles for Tuesday, October 24, 2017 | |
Can Too Many Apps Make You Less Productive?
Almost every professional adult today possesses a smartphone—and doctors are no exception. From keeping track of appointments to tracking industry information, smartphone apps can be quite useful. Commitments, contacts, and even research are right at hand! A quick look through the Apple or Android app stores reveals medical dictionaries, diaries, organizational tools, and other specialized medical apps.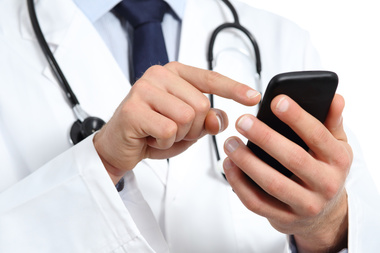 But could too many apps be making you less productive? Let's take a closer look.
Select your preferred apps. You probably deal with a variety of colleagues and employees, all of whom may use their own favorite productivity and scheduling apps. You have to use what is good for you and your practice. You can't use half a dozen similar apps for the same task just to please everyone. Medical offices sometimes create their own patient portal, which can streamline the process for doctors, their employees, and their patients.
Prioritize between nonurgent and unimportant. Many times the biggest problem for prioritization comes from not entirely understanding the difference between urgent and important. The same is true for tasks that are not in either of these categories. Create a four-tier matrix to determine which tasks require your immediate attention and what can wait. Technology might not be the best way to make this determination because items can't be weighted by the app the same way they can be evaluated by your brain.
Automate your systems. Apps become a problem when they manage you. Instead, you need to harness their technology to better manage your time. The more you can automate, the better. Use one calendar system to keep track of all your tasks, and set alerts to remind you of deadlines.
Use what works best for you. Ultimately, the only system that will be successful is the one that works best for you. If you download dozens of apps but find that most of them don't contribute to your productivity, ditch them and concentrate on those that assist you. Don't use something just because "everyone" is using it.
How do you feel about using productivity apps to help streamline your medical practice? Contact us today to discuss your best options.
---
Your Comments
Nelda Fields | Debra Turner
Healthcare Services Group | Partners
(843) 577-5843
healthcare@websterrogers.com
40 Calhoun Street, Suite 320
Charleston, SC 29401
Saved Articles
Comments and Feedback
Refer A Friend
Your Privacy

Our firm provides the information in this e-newsletter for general guidance only, and does not constitute the provision of legal advice, tax advice, accounting services, investment advice, or professional consulting of any kind. The information provided herein should not be used as a substitute for consultation with professional tax, accounting, legal, or other competent advisers. Before making any decision or taking any action, you should consult a professional adviser who has been provided with all pertinent facts relevant to your particular situation. Tax articles in this e-newsletter are not intended to be used, and cannot be used by any taxpayer, for the purpose of avoiding accuracy-related penalties that may be imposed on the taxpayer. The information is provided "as is," with no assurance or guarantee of completeness, accuracy, or timeliness of the information, and without warranty of any kind, express or implied, including but not limited to warranties of performance, merchantability, and fitness for a particular purpose.

Powered by

Copyright © IndustryNewsletters All rights reserved.

This email was sent to: healthcare@websterrogers.com

Mailing address: 40 Calhoun Street, Suite 320, Charleston, SC 29401