| | |
| --- | --- |
| Here Are Your Articles for Wednesday, December 20, 2017 | |
Is This Your Situation: Trying to Save Money by Sharing a Work Environment
Whether you're new to commercial real estate or you've been in the business for a while, it's essential to understand how co-working can help you make the most of your profession. This developing trend creates opportunities to share your ideas and knowledge with other bright, creative individuals in a shared work environment.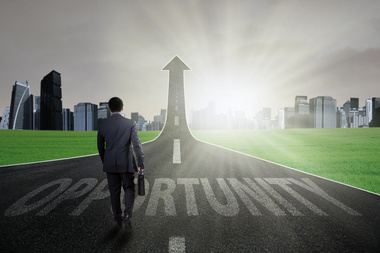 Following are nine things you need to know about this growing trend, so you can discover other people who share your interests and get into the real estate game.
Definition. Co-working is a style of work that entails completing everyday tasks in a shared working environment, such as an office, where each person engages in independent activity.
Characteristics. Co-working is a situation in which people employed by different companies work in the same location, so they meet in the same space even though they work independently.
Origin. Co-working was launched about 11 years ago to address the isolation freelancers feel when working from home, as it offers the opportunity to work with others in a professional, distraction-free atmosphere.
Goals. Co-working provides a way for professionals who work from home, perform independent contracting services, or travel frequently to complete their tasks in the company of other accomplished individuals.
Businesses. Co-working appeals to businesses that require both a high degree of independent work and a collaborative atmosphere for circulating ideas and information.
Role. Co-working encourages diverse men and women to work in collective office spaces while connecting people with an interest in something like commercial real estate to foster innovation and initiate change.
Impact. Co-working takes an industry, such as commercial real estate market, and revolutionizes the way professionals, like brokers, work together to help the industry thrive in modern times.
Big Players. Co-working is promoted by companies like WeWork and Regis, which create stunning work environments for all types of businesses and people across the country.
Future. Co-working is enjoying tremendous growth, as individual work opportunities lead to thriving work environments in which people from different backgrounds meet to share their interests and skills.
These nine facts give you all the information you need to start forming your ideas while completing your assignments alongside like-minded people. By working in proximity with professionals who also take advantage of this opportunity for communication and collaboration, you'll create a fruitful environment for expressing your thoughts and getting feedback from your peers.
The commercial real estate industry is particularly ripe with opportunities for co-working, so contact me today to learn how to use it to get in touch with your fellow real estate investors and reach your full potential this year.
---
Your Comments
Steven Miller
Partner
1 (843) 706-8440
smiller@websterrogers.com
1 Westbury Park Way, Suite 200
Bluffton, SC 29910
Saved Articles
Comments and Feedback
Refer A Friend
Your Privacy

Our firm provides the information in this e-newsletter for general guidance only, and does not constitute the provision of legal advice, tax advice, accounting services, investment advice, or professional consulting of any kind. The information provided herein should not be used as a substitute for consultation with professional tax, accounting, legal, or other competent advisers. Before making any decision or taking any action, you should consult a professional adviser who has been provided with all pertinent facts relevant to your particular situation. Tax articles in this e-newsletter are not intended to be used, and cannot be used by any taxpayer, for the purpose of avoiding accuracy-related penalties that may be imposed on the taxpayer. The information is provided "as is," with no assurance or guarantee of completeness, accuracy, or timeliness of the information, and without warranty of any kind, express or implied, including but not limited to warranties of performance, merchantability, and fitness for a particular purpose.

Powered by

Copyright © IndustryNewsletters All rights reserved.

This email was sent to: rhowell@websterrogers.com

Mailing address: 1 Westbury Park Way, Suite 200, Bluffton, SC 29910