Five Industrial Renovation Projects That Are Turning Heads
You may have seen once-blighted areas in your hometown transformed over the past several years into something totally new. Cities across the country are turning their abandoned warehouses and industrial complexes into amazing spaces. Following are five industrial renovation projects that are creative, expansive, and unique.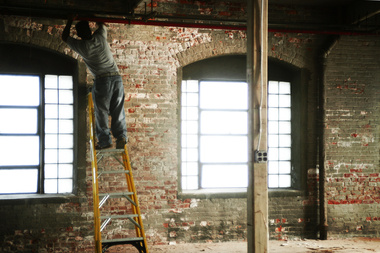 1. 250-Year-Old Industrial Complex Turned Museum and Art Complex
Not only is the North Adams Industrial Complex in Massachusetts one of the oldest industrial complexes of its kind, but in the late 80s, it already had made the transition to the kind of mixed-use entertainment space that other industrial spaces are making today. Once a commerce magnet made up of masonries, furniture manufacturers, and ironworks, it now hosts a museum dedicated to promoting the arts and artists.
2. Century-Old Industrial-Era Passenger Train Turned Motel
In New York State, there is a hotel that not only looks like an old fashioned passenger train, but also is one. Built in the late 1890s, the Caboose Motel is now a family getaway made up of rooms modeled after its old passenger car cabins.
3. Indiana's Union Station Turned Wedding Venue and Hotel
Before there was a Union Station in New York City, there was what is now the downtown Indianapolis Crowne Plaza. It served as a railway station with large cathedral ceilings and Romanesque columns. Today, people rent out the giant hall for weddings and guests sleep in rooms designed like passenger rooms on the Pullman railcars that used to pass through the station.
4. Old Manufacturing Plant Turned 21st-Century LEED Platinum Facility
Revitalizing old industrial areas are giving developers a chance to contribute to the green energy revolution. On the Southside of Chicago, Illinois, the Method Southside Soapbox exists on a site that used to be a Pullman railcar manufacturing plant. Built in the late 1800s, this area has a storied history within the civil rights and labor rights movements. It is now a platinum-standard LEED-certified facility used for commercial manufacturing. The facility itself is fully energy efficient using a combination of wind and solar to conserve on energy.
5. Historic Women's Industrial Plant Turned Artist Haven
On the west coast, one of Oakland, California's oldest industrial buildings has been made over into a unique and highly acclaimed work and home space called the Lampworks Lofts, which caters to local artists. The industrial building was the first of its kind to employ women in the western territories and has been upgraded to make it seismic compliant, while retaining much of its exterior façade and original interior flourishes.
If you're ready to begin converting old industrial spaces into innovative renovation projects, contact me today.
---
Your Comments