Creating a Positive Return Experience
COVID-19 disrupted many things we took for granted in our daily lives. The change to our work lives is arguably one of the most profound. Practically overnight, we went from getting dressed in work attire and commuting to a physical workplace to working virtually, dressed in our metaphorical pajamas.
Reversing that won't be so easy, especially since states and localities are reopening under different rules and protocols. Nevertheless, businesses are responsible for supporting the health and wellness of their employees. In addition to fulfilling that obligation, companies need to consider the potential liabilities they may face if they don't reopen reasonably and appropriately.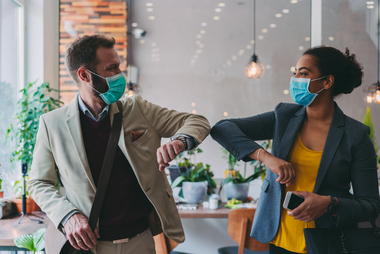 Keep in mind that some of these changes will be permanent and others will ease once the pandemic fades — or there is a vaccine. Company leaders may be surprised at how well their companies function with some of the changes. Adaptability and flexibility are the new reality for the workplace of the future.
This is a unique situation. How people reenter the world outside of quarantine largely depends on their personal risk tolerance, and companies need to recognize and empathize with how important that factor is. There are some steps companies can take to help reassure their employees it is okay to come back to work.
Here are five areas that need to be considered:
Remote work. Company leaders need to become comfortable with the fact that remote work is here to stay. Some employees will want to continue working from home at least part time. Others may want to come back but need to be reassured that the workplace feels safe. Still others will be balancing work and home responsibilities until schools reopen for in-person learning, and that may impact the timing of their return.
The pause has been long enough for employees to show they are responsible and productive as they work remotely. Employers need to be flexible in this area. A recent Gallup poll showed that 54% of U.S. workers would change jobs if they couldn't continue to work remotely. This is a big consideration since the talent shortage hasn't abated during the pandemic.
Physical changes to the workplace. Social distancing will be the norm for the foreseeable future, which means companies with an open workspace will have to reconfigure their space to be in compliance. This may mean undertaking projects such as physically reconstructing the space, taping off every other desk and installing plexiglass dividers. Alternatively, it may mean altering work hours.
Other changes may be needed as well, including adjusting capacity in elevators, cafeterias, break rooms and restrooms. Managers need to consider the when and how of sanitizing the office, particularly common spaces. Changes to how food is served (e.g., salad bars or china vs. paper plates) are yet another concern. In addition, hand sanitizer stations will need to be available throughout the office, and masks, gloves and wipes will need to be available for workers and guests who need them.

Work schedules. A 9 a.m.-5 p.m. workday may become the exception rather than the rule as social distancing and sanitizing affect mass transit, public parking and company facilities. It may be that your company chooses to stagger work times to accommodate workers' concerns.

Health checks. A major priority of all businesses is protecting the health and safety of their workforce. The fact that COVID-19 is so highly contagious makes this even more important than usual, in part because there may be liability issues if there is an outbreak at the company. Companies need to consider implementing policies such as the following:
Temperature checks as workers and guests enter the workplace.
A questionnaire that needs to be completed before anyone can return to work. Questions such as (1) do you/did you have COVID-19, (2) have you been exposed to COVID-19 and (3) do you have any symptoms of COVID-19 should be included.
A company policy needs to be put in place in case someone falls ill at work. The person should be sent home immediately, and he or she should arrange for COVID-19 testing. A process should be in place for contact tracing within the office if someone tests positive, as well as for when the employee can return to work and for determining whether any documentation is needed.
Communications. Company leaders need to be open and transparent as they keep employees informed about when and how they plan to reopen, and include the steps management is taking to ensure employees' safety. Communications should always be written in a tone that conveys the message "we are all in this together." When management and employees work together and remain flexible, the company has a good chance of emerging from the pandemic relatively intact.
---
Your Comments