How to Put Together a Home Budget
How do you assemble a budget? You have only a vague idea of where your money goes, but you know it doesn't go far enough. A budget presents an itemized description of income and expenses to enable you to determine your spending and get more out of the money you have, making it easier to meet financial goals that you've set for yourself. The more closely you examine your situation, the easier it will be to identify ways to improve it. It's a necessary part of your pursuit of financial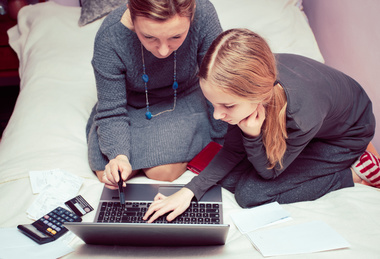 success.
There are seven reasonably simple steps involved:
Choose a system.
Determine your income.
Determine your expenses.
Compare income and expenses.
Determine your goals.
Improve your situation.
Monitor your progress.
Let's take them one at a time:
Choose a system — One that will let you track budgetary information — pen and paper or financial software that comes with tools to guide you through the process, crunch the numbers for you and suggest areas of improvement. To further simplify the process, you might consider banking online.
Determine your income — Calculate and record the income you receive from various sources: gross salary and wages, bonuses, interest and dividend income, pension, Social Security, tax refunds, rental income, child support or alimony payments received, and any other sources of income.
Determine your expenses — While time-consuming, this is important because it's the side of the equation you have the most control over. There are three types — fixed committed expenses like mortgage, auto loan/lease, other loans, taxes, insurance, children's education and savings; variable expenses like groceries, utilities, repairs/maintenance, phone, credit cards, clothing/laundry, medical bills, transportation and such professional services as your financial advisor and attorney; discretionary expenses like recreation/entertainment, dining out and movies.
Track your expenditures for a month or two, not changing your spending practices, but remembering to track everything, no matter how small. Be sure to itemize cash purchases rather than just listing a single ATM withdrawal. Many times, cash purchases include more than 5 percent of overall expenses.
Compare income and expenses — How much money is coming in? How much is going out? Where is it going? And on what am I spending more than I should be or thought I was? Most Americans spend about 70 percent of income on fixed expenses.
Most importantly, if your total spending exceeds your income, your first priority should be to change this. Perhaps you remember your Dickens? From David Copperfield, Mr. Micawber's famous, and oft-quoted, recipe for happiness: "Annual income twenty pounds, annual expenditure nineteen [pounds] nineteen [shillings] and six [pence], result happiness. Annual income twenty pounds, annual expenditure twenty pounds ought and six, result misery."
Borrowing money to meet monthly expenses is like quicksand — harder and harder to escape from.
Determine your goals — Establish a target budget and work toward achieving it.
Improve your situation — The income side of the equation is the hardest to alter, unless you've got flexibility to work more or less as you desire. You probably have more control with expenses — focus on discretionary expenses for better money-saving ideas. Are these expenditures worthwhile?
Monitor your progress — The final step is to monitor your budget on an ongoing basis to confirm you're still on target. An hour a month should suffice, especially if you're using personal finance software.
If you find you repeatedly have difficulty sticking with the plan you've set, you might want to trim any expenses that are getting ahead of your projected numbers. You might discover that some of your goals are unrealistic. If so, adjust them and find a new budget that works for you. Give us a call if you have questions.
---
Your Comments