Does Your Organization Innovate?
To innovate means to introduce something new or make changes in something established, especially by introducing new methods, ideas, or products.

Should every company innovate? Absolutely!
If not, you'll get left behind.
Vrakas has found an innovative resource in Maverick Innovation Lab. Maverick Innovation Lab (M!L) in Delafield, Wisconsin is an innovation accelerator helping clients get results using proven Design Thinking methods. Thus, the lab moves organizations forward through facilitated ideation workshops using proven design-thinking principles to produce fast, actionable results.
Vrakas is proud to say it partners with M!L in many ways. Not only have we sent numerous internal teams to participate in Design Thinking meetings, we also sponsor the M!L TALK series, to name a few.
How can you benefit from the Vrakas-Maverick Innovation Lab partnership?
For any organization challenging the status quo - the lab is the place to innovate. "From local to global, from nonprofits and education to technology and industrial manufacturing, M!L has worked with a variety of entities to drive innovation through people-powered design thinking."
M!L Purpose: "M!L believes that the way to be great is to do something new. Collaboration is the best way to create something new. Design thinking is the best tool for collaboration."
M!L is a platform for Innovation:
Place - The M!L provides a place for collaboration and innovation with team and partners.
Process - Design Thinking is a process for organizations that desire to make things better, faster.
People - Mavericks are a group of out-of-the-box thinkers that share a quest for learning new ways of doing things.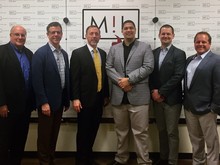 The M!L Talk sessions have been created to provide an ongoing thought-leadership series where experts are invited to offer thought-provoking material on innovative thinking, creativity, disruptive processes or products, as well as other 21st century business topics and trends.
Just last week, Vrakas sponsored the quarterly M!L TALK series at the Lab which provided great networking and a keynote address by speaker Chris Voss.
Former FBI hostage negotiator and distinguished author, Chris Voss, wrote "Never Split The Difference: Negotiating As If Your Life Depended On It," with his son, Brandon Voss, and founded The Black Swan Group. The Black Swan Group helps people overcome communication challenges in business through the application of negotiation techniques. Chris Voss told the sold out crowd that there is a BIG difference between the responses "you're right" and "that's right," that you diffuse the negative by identifying the negative, and that "an epiphany moment is disruptive."
So there's no time like the present. Are you ready to innovate? Contact us today at (262) 797-0400 or firm@vrakascpas.com for more information on how Maverick Innovation Lab can help your organization move forward.
---
Your Comments