Cleaning Fine Art to Reveal The Beauty Within
Fine art on display retains its sparkle with regular cleaning. Although your cleaning staff may have prior experience with luxury home detailing, addressing your cleaning preferences gives you peace of mind and the security of high-quality work.
Whether they decorate the walls or embellish a table, fine art pieces face daily exposure to a variety of contaminants.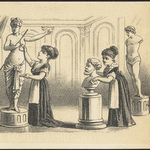 During cleaning, the best way to move a piece is at the corners of the frame or the base of the figure. Ask your cleaners to be mindful of other personal property and to move slowly around delicate pieces.
Ensure housecleaners always wear gloves to protect fragile surfaces from fingerprints or dirty smudges. Clean cotton gloves are suitable for the majority of your collection. If surfaces are likely to catch on cotton fibers or prevent tactile adhesion, choose disposable latex or vinyl gloves instead.
Oil, watercolor, and acrylic paintings liven up a room, but their colors can become hidden behind dirt. To prevent damage to paint surfaces, use soft-bristle brushes, or even an unused makeup brush, to gently remove dust layers. This simple technique lets your artwork shine without risking tears or paint removal.
While non-lacquered brass can be polished, bronze pieces can easily be damaged by polish. Cleaning staff should wipe the surfaces with a damp soapy cloth and use a second dry cloth for buffing. If tarnish is present on non-lacquered brass, use a safe, nontoxic polish.
As a luxury homeowner, your fine art collection is as unique as your residence. Discuss the importance of careful cleaning with your maids, and ensure they understand your wishes.
If the process is potentially difficult or complex, the art piece should be sent to a professional cleaner or art restorer. With proper attention, your eye-catching collection fills your home with constant beauty.
Image source: Boston Public Library via Flickr
---
Your Comments